I spotted this beauty at my local SPACE.NK before they were even released on-line. What grabbed my attention – apart from the beautiful shades –  was the powders unusual chevron pattern.
Then, unfortunately my little fingers touched it and I knew that I was set for disaster –  I even heard the makeup angels singing.
However, I felt strong and was able to resist it…at least for a while! The truth is that I kept on looking for it all the time and when SPACE.NK did the usual "Discover something new" campaign, I pulled the plunge and went for it.  So glad I did – it is truly amazing.
There are two shades available: Tan Flash cruise, which has more vibrant/darker shades and Light Tan Vibes a more neutral palette – the one I own.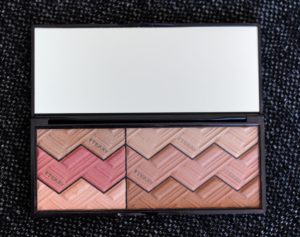 The shades come in a sturdy plastic packaging, with a generous mirror that opens flat (which, is something that I appreciate) and has a beautiful chevron metallic pattern on the lid.
It has six shades, on the left side shimmers and on the right mattes, the powders are extremely soft, pigmented and very blendable. As they are so soft it kicks a bit of powder, nothing too crazy but just bear that in mind.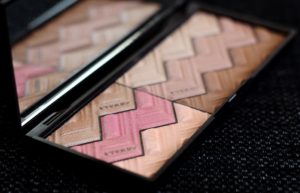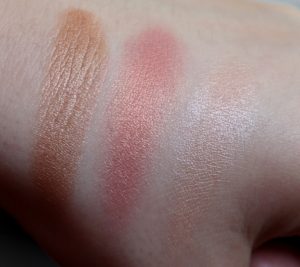 The Shimmer Shades 
Bronze highlighter (left)
Tea rose/coral blush (middle)
Peachy champagne highlighter (right)
I've used all the shimmer shades, apart from the bronze highlighter, which to be honest probably will end up being used as an eyeshadow. I'll never get tanned to be able to pull it off.
The tea rose/coral blush (I'm so good with descriptions whoop, whoop! Hey By Terry you should start naming shades ,please.) is everything  I wanted NARS Orgasm to be – don't get me wrong, I like NARS Orgasm, however, I find the shimmer a bit too chunky. The shade is very similar, however much softer in texture with undetectable shimmer.
In my opinion, the star of the show is that peachy/champagne highlighter. I tried really hard but never got pictures to translate it as in the flesh. It is just stunning, has such a pretty sheen and you need to be a bit careful on application, it can be quite blingy if applied heavily – I use a dual fibre fan brush, which grabs little amount of product and I just layer it if I want a more powerful highlighting effect. 
On the matte side of the palette…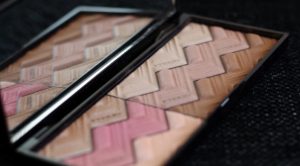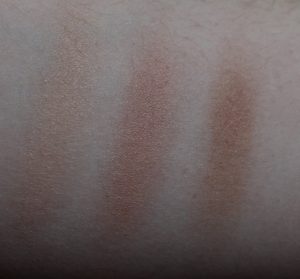 The Matte Shades
Cream matte highlighter ( left)
Neutral matte shade
Bronzer with micro shimmer
Cream matte is a perfect for a base eyeshadow and matte highlighting. As the other ones, is super soft but not so pigmented, probably because it's a very light shade.
The middle neutral shade, reminds a lot of the Burberry earthy blush. It does have a very slight pink undertone and would look great as a blush or a transition colour eyeshadow.
The bottom shade is quite a scary one for me, it is a warm bronzer with micro shimmer. The shimmer doesn't translate on the skin and even though leans on the warm side, it's not orange – at least on my pale skin!
I tend to mix all three shades together to get my perfect bronzer shade, not too light and not too dark!
Now that I've praised this palette let's run through some of the things I don't like about it. First and the obvious one, the price, it is worth it like most of products from By Terry, but still.. quite a hefty price tag.
Second, the arrangement on the palette looks beautiful but not very practical, you need to be extremely careful not to mix shades.
Third, the actual embossed pattern on the powder makes the product not to distribute evenly on the brush, which can be a problem.
Overall, I'm totally in love with it (almost getting to same level as my hourglass ambient lighting blush palette) and cannot recommend it enough!
What are your thoughts?
P.S.: This is a limited edition palette from the Sun Cruise Style Collection Summer 2016 so grab it while you can!