Yes, I'm confessing it. I have a thing for bathrooms and I'm always on Pinterest getting inspired for when I'll need to do my own bathroom! I love simple, airy and minimalist – like the ones below.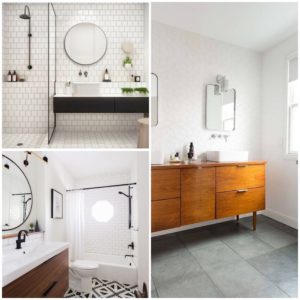 Pictures from Pinterest 
Features that I love the most
Mirrors – these can change the room instantly, my favourite are the round ones!
Geometric patterned tiles – either on the walls or floors. Geometric tiles make a place cool, unusual and can even give a vintage touch!
Glass – Glass dividing walls or encased glass showers will give you the illusion of a bigger space – even if you have a tiny bathroom.
White and Grey – I'm a sucker for white and grey bathrooms, I can't help myself… I just love it!
Please, tell me I'm not weird for loving bathrooms!