GIVE ME ALL THE GLOW!
This has been my motto for the last couple of winter, dark, colder months.
I had this foundation sitting on my foundation drawer brand new and untouched – bought it when everyone was raving about it. I was trying to be good and not have one million foundations opened – but last November, on my birthday, I decided to crack it open and see the magic happen.
Burberry makeup always feels super luxurious and generally delivers. I also have the Burberry Velvet Foundation, which is the matte big sister and I used it non stop for solid 6 months in the past ( that's a record for me by the way).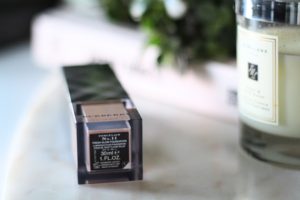 This little sister is such a gorgeous formula, I feel like it's one step up from Luminous Silk by Giorgio Armani in regards to the glow and "lit from within effect".
It blends seamlessly, the coverage is light to medium and I do find that it's really easily buildable. I have the shade Porcelain N11, which I believe it's the lightest shade – no surprises here – and it matches me perfectly in Winter time.
It performs really well on my combination skin but just bear in mind that my skin has been on the dehydrated side… So not as oily on my t-zone like in Summer time. Regardless, it holds really well for such a glowy foundation.
The foundation quest continues, however. Looking at you Power Fabric!
What's the next foundation on your list?