Since I heard about the Archipelago when I visited Stockholm, that I knew it was right up my alley… honestly? who doesn't love nature? 
The Stockholm Archipelago has nearly 30,000 islands (amazing, right?) and starts just a few minutes boat ride from the Stockholm centre. 
I hopped on a boat excursion last weekend as I wanted to learn more – but you can also take commuting boats to some islands, find more information here
The trip took about 2 hours and 30 minutes and it was totally worth it, even though, our neighbours were loud as hell! 
The views were mesmerising…some of the areas we passed by were so calm and peaceful, it really made me feel connected with nature and made me realise that this was one of the reasons I moved from crazy busy London. 
I could be here hours trying to explain some of the landscapes but I'll leave you with some pictures instead!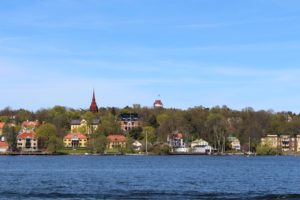 I really want to explore the archipelago more and I'll do it in the future, but if you visit Stockholm and are on a tight schedule I totally recommend hopping on a boat and be amazed by the beautiful landscapes!
Hope I managed to tempt you!