When I lived in London I used to go to the Nordic Bakery in the Soho area. It is a peaceful café with scandinavian vibes – they have one of the best cinnamon buns and their cakes in general are amazing!
So when I left, I rushed to buy their cookbook – honestly you should check it out, they sell it in house or you can find it here!
My husband used to have the raspberry and blueberry oatbake and loved it, so I decided to have a go doing it and turned out to be pretty simple and easy to do!
What you need
100g porridge oats
300 mls of hot milk
100g unsalted butter, softened at room temperature
60g caster sugar
50ml of honey (runny so it's easier to mix)
1 teaspoon of vanilla extract
1 egg lightly beaten
1 teaspoon baking powder
120g plain all purpose flour
raspberries on taste
blueberries on taste
Loaf pan, greased – I used a flat pan because I didn't want the cake to be too high
Optional: Confectioner's sugar for dusting
Serves 6 
How to
Preheat the oven to 180 degrees or gas mark 4.
Warm the milk, once it's done mix it with the oats and leave aside so these can absorb the milk and cool down a bit
Get a bowl and mix the butter and sugar together with a silicone/wooden spoon or handheld electric whisk until  fluffy and pale (I used a silicone flat contraption and worked just fine! ). Stir in the honey and vanilla extract, then add the egg and beat everything well.
Sift the flour and the baking powder together, folding it really well with the butter mixture
Drain any remain liquid from the oats and then add it to the bowl with the mixture, stir it well together and once it's well mixed pour it in the pan and sprinkle with raspberries and blueberries evenly on top
Bake it for 50-60 minutes, until a skewer inserted into the centre comes out clean – My experience is that by 45 minutes mine was thoroughly baked, but it will depend on your oven, so keep an eye on it! 
Now, you should end up with something like this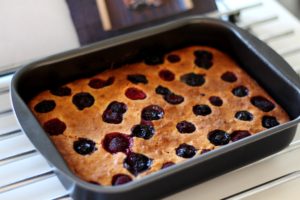 Now, for your daily dose of yummi-ness you should check out Nordic's Bakery and Miisa's Mink instagram
Happy Baking!