Jo Malone London is a renowned fragrance house, known by their philosophy of scent layering – in order to create your bespoke scent – and their unusual combination of ingredients, that makes some fragrances really intriguing and exciting,  and there are so many to fall in love with!
I remember the first time I saw a Jo Malone London store, I was completely drawn in by the combination of all those classic and gorgeous glass bottles and the cream and black colour scheme. Everything screamed classy and understated, even today I get the same exact feeling.
The shopping experience in any store I came across was always so nice, relaxed and informative – most of the staff know a lot about the inspiration behind the scents and notes. If you are a fragrance enthusiast like myself, you'll understand what I'm talking about.
Also, they usually offer you to have a complimentary hand massage or to book one, so it is really a very different type of shopping experience!
Today I thought I would show you my perfume collection from Jo Malone London, and my thoughts about each fragrance. Don't get too excited… it's not that big! :p
My first EVER fragrance from Jo Malone London was Wild Bluebell, which I absolutely adored and felt that If I was a scent, that one would be me, very soft and floral!
I still love it (even though I don't have the bottle), but the problem I had with this scent is that the longevity on my skin was not that great, it is a light floral so it is expected. But I used to go in-store and have a sniff once in a while, like a complete weirdo! :p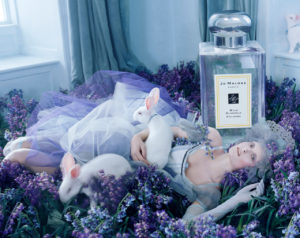 Vibrant sapphire blooms in a shaded woodland. The delicate sweetness of dewy bluebells suffused with lily of the valley and eglantine, and a luscious twist of persimmon. Mesmerising.  

Jo Malone
My second fragrance, was one that I lusted for quite a while after the release, Peony & Blush Suede. This was the first fragrance that I bought a big bottle, and still adore it!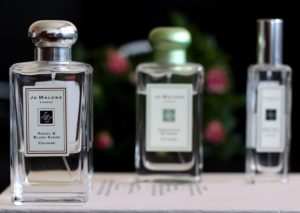 The essence of charm.  Peonies in voluptuous bloom, exquisitely fragile.  Flirtatious with the juicy bite of red apple and the opulence of jasmine, rose and gillyflower.  Mingling with the sensuality of soft, blush suede.  Luxurious and seductive. –

Jo Malone
It was my signature scent from 2013 and all the way through 2014. I love peonies, the combination of floral/fruity ( it has red apple) and the suede element, gives it a leathery edge which I never appreciated in scents before.
I would say it is a very classy grown up scent, almost touches the sexy level with the suede note, but not completely reaching it… just seductive. I got stopped several times on the street by people asking me what I was wearing and about three friends  and my mum, since then got hooked on it! So yeah… it is a pretty special one!
Next was Osmanthus Blossom, a limited edition from the Spring Collection 2015, I bought on my way to Stockholm ( for the very first time) and my husband helped me choose because there were three fragrances on this collection and I couldn't decide!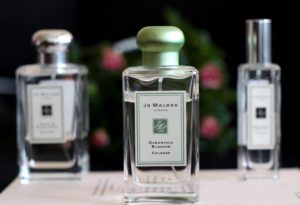 Delicately exotic. The white flower captures the duality of apricot counterpoised with supple leather. Luminous petitgrain and luscious peach and orange flower ripple over voluptuous cashmere  wood.

Jo Malone
I ended up choosing this one because I was missing a simple floral on my perfume wardrobe, and this was perfect. It is very floral and somewhat citrus, that can be slightly overpowering. So, with this one less is more! It is a very spring/summer scent, I don't think I ever reach for this one in the Winter. 
My last addition to the fragrance collection was a very unexpected one and if you've seen my beauty favourites video, you'll know why. I'm talking about the Wood Sage & Sea Salt.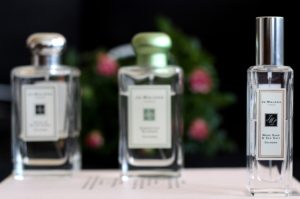 Escape the everyday along the windswept shore. Waves breaking white, the air fresh with sea salt and spray. Alive with the mineral scent of the rugged cliffs. Mingling with the woody earthiness of sage. Lively, spirited and totally joyful.

Jo Malone
When this fragrance was released, I smelled it and didn't find it anything special, after a while for some unknown reason I smelled it again and completely fell in love with it… I don't know what kind of sorcery was that but anyway.
It really reminds of a beach ( I lived close to beach almost all my life), it is soft, fresh and woody. The longevity of this one on my skin is insane, the kind of, that once in a while I get an explosion when I move or the wind blows.
I ended up buying a small bottle and I'm regretting that I didn't buy the big one now,because there's no Jo Malone London in Sweden.
Jo Malone, if you ever read this.. please bring it to Sweden pleaaaase! Thanks!
Now, because I have awesome friends and they know my love for candles and Peony & Blush Suede scent, my friend R. presented me with a candle on my last birthday and let me tell you… when I light up this baby, my house seems to be bathed in Peonies & Blush Suede yummi-ness!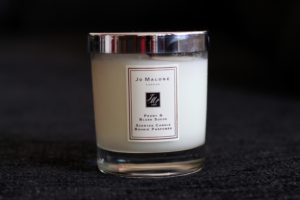 It is so amazing that even without burning, if I remove the lid I can still smell the scent!
Have you come across Jo Malone London before? What are your favourite scents?