If you been around here, you know I did an overview post on NINNI Created by You here, and you should have a look at it first so you understand the brand's system and ingredients a bit a better, as well as an overview on the brand itself!
NINNI Created by You is an UK based brand with Scandinavian roots and that reflects really well, because there's simplicity and effectiveness.
I was kindly sent the My Night with Lavender & Chamomile and I've been using it non-stop since beginning of July so now I can tell you what I think about it – I truly believe that with skincare, you need to use it for at least a month to form an opinion.
My Night is filled with hyaluronic acid, peptides, vitamin A and Q10 to rejuvenate and hydrate the skin and I truly felt my skin was being nourished. The cream has a rich texture and a nice slip, it glides really easily on the skin. Even though, my skin is combination I did find that gets easily absorbed and my skin felt really comfortable and moisturised.
I chose the scent Lavender & Chamomile – personal preference – and the sensorial experience is so relaxing and soothing.. It has the perfect balance of both components making it not overpowering and just soft and gentle, it really made me feel ready for bed and forget the busy day I had. Another point to mention is that I have sensitive skin and this worked really well.
There's also another two scent options: Unscented and Lemon and Rosemary, which is a more uplifting scent. So the good thing is that you can choose what floats your boat, and not be stuck with a product that you don't like because of the heavy scent or if you have EXTREMELY sensitive skin.
In the morning, my skin is glowy, plumped and really juicy! Even with my combination skin and this being a rich cream my skin just drinks it and that shows in the morning!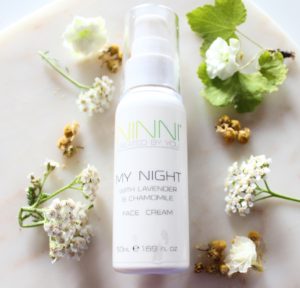 Packaging
I need to give a mention to the packaging, simple and effective.
Simple on the design giving me that Scandinavian feel and effective because has a pump, which dispenses the right amount of product, keeps the ingredients as fresh as possible and minimizes the bacteria contamination – as you not opening a pot and dipping your fingers in it.
NINNI as a brand is very passionate about packaging and preserving ingredients and you can have a read about it here!
The bottle is opaque which is good so the ingredients don't deteriorate with light, however, since I keep mine in a dark cupboard I wish the bottle was see through or with some kind of indicator, so I know how much product I have.. but it's just a detail!
I just love the whole concept and how passionate Katarina is about ingredients and formulations. Can't wait to see more from the brand.
You should check NINNI's website, where you can choose and buy the products – has loads of information about products and a blog with very interesting articles. Also, NINNI's Instagram feed is a dream, go and have a look! 🙂
Disclaimer: This sample was kindly sent by the brand, however, this is not a sponsored post in any way, shape or form. All opinions are always honest and my own.