Erborian is one of those brands that I always I've seen around but never tried anything… In August, I was contacted by the lovely people from Sweetcare and they kindly sent me this to test out.
Sweetcare is a portuguese beauty online store, full of products from very well known brands but also with some niche ones and the good thing? They ship worldwide! You can also check the latest releases on their Instagram and Facebook.
Let me start by saying 0.09 Touch au Ginseng  is the most alien thing I've tried. The shiny compact houses a creamy product which resembles a lot a creamy foundation when you touch it, but once it's blended on the skin transforms into a velvet veil that doesn't look powdery at all.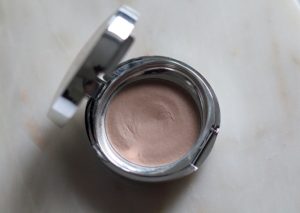 I've used this two ways, first, on top of foundation as a touch up aid and it worked really well but I do find that needs to be used with the sponge provided or some other kind of makeup sponge, brushes won't work. It did keep the shine at bay and kept things put together for more couple of hours.
The other way I used it was completely on it's own as a perfecting light base and I was very surprised… it does pack a punch in the coverage department! It did cover the redness around my nose and evened out my skin tone really easily and since my skin is not that problematic I'm happy wearing it this way on easy going days!
I have shade "universelle" and the undertone is quite grey so if you have a warm skin undertone it will be difficult to make this shade work but they have other two shades in the range according to their website. I have a neutral undertone so for me it was okay!
The finish is definitely satin, like a perfecting veil, very skin like and feels extremely lightweight. It lasted very well on my combination skin, even though I do find that lately my skin hasn't been very oily on my T-zone, so not sure how would perform in oilier skin types.
Overall, even though was such a different product for me I really liked it and can totally recommend it if you are on the hunt for a multi purpose product!
Disclaimer: This sample was kindly sent by the brand, however, this is not a sponsored post in any way, shape or form. All opinions are always honest and my own.