If you don't live in the North of Europe, you probably don't have any idea what "Midsommarkrans" is but it's basically a flower crown which is used to celebrate the "Midsommar". We have a similar celebration in Portugal, which is called "Santos Populares", however despite the fact they are both celebrations I do find them completely different.
Midsommar is a great deal here in Sweden – probably more important than Christmas – it's the celebration of the Summer Solstice and the longest day of the year. People usually leave the city, go to the countryside have nice food, time with family/friends, loads of drinking, singing, game playing and of course dance around a traditional pole and sing a weird frog song. Everyone just have a great time!
Now, one of the traditions is that everyone wears a flower crown "Midsommarkrans" and this year I decided to do my very first one – most of the people do their own and it's really easy to do it! – so I decided to gather few ideas.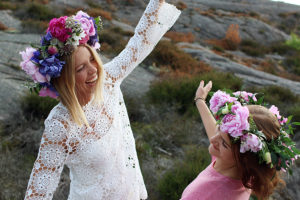 Picture from Hanna
I really want to use peonies and hydrangeas, they are one of my favourite flowers and I think they look really like what a princess would wear as a flower crown – cheesy enough?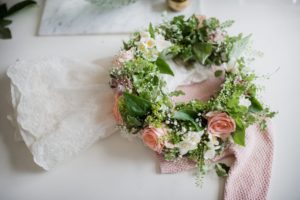 Picture from Mama
I also like the idea of a more understated, simple crown with some roses, greenery and gypsophila.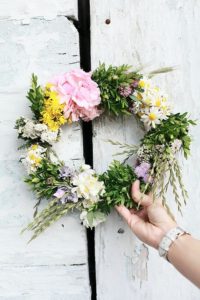 And then there is the more traditional one, made of the wild flowers you've picked in the morning!
All of them are so beautiful, it's so difficult to set my mind in one type.. so I'll show the result when I do my own in few weeks time! 🙂