First of all, this foundation was not a planned purchase. I mean, I was looking for a new foundation – remember the foundation quest? – but let's say this one was not on the list. 
When Giorgio Armani released the Power fabric, everyone went bonkers raving about it, but personally when I tried it one it didn't impressed me at all. To be fair my skin became really dehydrated over the course of the winter so any foundation less hydrating just simply wouldn't sit right on my skin. 
I even tried the By Terry Terrybly Densiliss and even that one looked horrible, which I was glad since it is pretty expensive. Anyway, then I remembered that I tried the Bobbi Brown Skin Foundation couple of years ago and I didn't like it because it was really dewy, which now would be ok on my dry skin… so decided to go to a counter and try it on and oh my! I've been using it almost everyday since I got it in the beginning of April.
It sat really well on my skin, really natural and not enhancing my dehydrated patches! 
I was colour matched to shade 2.5 Warm Sand, which a little tad warmer than my skin tone but it blends with my neck and just gives me a nice glow and would be perfect for the spring/summer months – I'm sick and tired of my pasty white tone.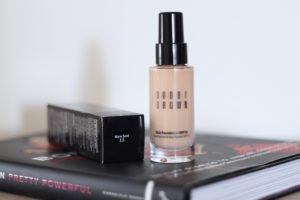 The good thing I find about Bobbi Brown is that there's a shade for everyone, doesn't matter where you live… if there's a Bobbi Brown Counter near you, you'll find your shade. It's really annoying with some of the other brands, even though they have a extensive range of the shades they only sell a limited number of shades in some countries.
Packaging
The packaging is simple nice glass bottle with a pump and the foundation is really fluid I guess because it's oil-free and water based, which makes it really easy to blend. It has SPF15 which is a bonus! 
Application
I do prefer to apply this one with a brush and I've being using the full face coverage brush also from Bobbi Brown – which I bought years ago! – it does blend the foundation effortlessly and because it's so fluid I do find that a sponge like the beauty blender would absorb a considerable amount of product.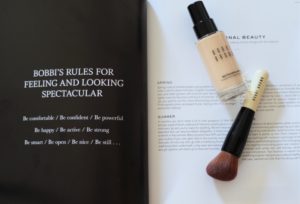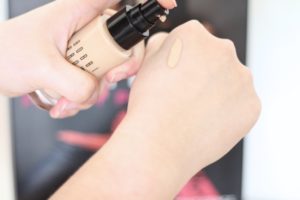 Coverage
The coverage is light to medium, in order to achieve a medium I need approximately 2 pumps to my whole face. I generally use 1 pump and a little bit to use in areas where I need a little bit more coverage.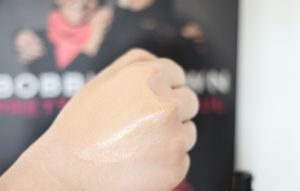 Finish
The finish is one the most natural I've come across, it does look like skin and is very undetectable. It has a glow to it without being excessive, it's just like I've moisturised my face and that's it.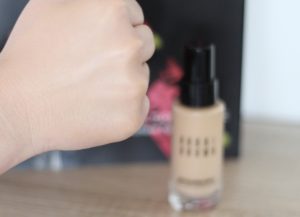 Longevity
In terms of longevity, I've used this for work without any powder – a complete utopia for me in the past couple of years due to my combination skin – and lasted really well for about 8 hours, which for me it's more than decent on such a glowy formula – of course it becomes slightly more dewy around the 6 to 7 hour mark but nothing oily crazy that makes me want to blot my face.
I just realised that I didn't looked at the claims of this foundation but here you go: 
This water-based, oil-free formula delivers undetectable coverage and a fresh, hydrated glow for the most natural skin-like finish. In addition to weightless, long-wearing coverage and hydration, the formula minimizes the appearance of pores, conceals imperfections, and delivers broad spectrum UV protection. Buildable formula goes easily from light to medium and is available in wide range of shades for all skin tones.
So.. basically everything I've said.. nice! 
If you haven't notice, I really like this foundation and has become quickly one of my favourites.
If you have dehydrated skin I can totally recommend it to you. If you are more on the oily side, maybe this will not work on your skin type, nevertheless you can get a sample and try it on! 🙂