Honestly, who still wears dark lipsticks in Autumn/Winter and bright ones in Spring/Summer?! I don't believe in that really! You should rock any colour whenever you feel like it.
But I thought would be interesting if I talk about my five-ish most used lipsticks this Spring. It's a mix of nudes, berries, muted corals and I have two wild cards – well we are talking about lipsticks, I couldn't choose only five!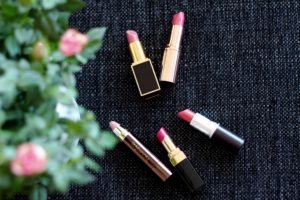 Tom ford "Indian Rose"– *swoon* before I dive in, let me tell you a funny story. When people talked about Tom Ford lipsticks I was that person "Honestly? That price? They can't be that different from the others" and then for some unknown reason I bought one of the  lipsticks from the Lips and Boys collection and it all started…
Tom ford lipsticks formula is without a doubt one of the best I've ever used. When you apply it's quite creamy, after a while it dries down slightly becoming semi matte, lasting very long for such a comfortable formula. The shade Indian Rose is truly my perfect neutral nude, not too pink, not too beige, not too peachy. Is what swedes would call lagom.
Charlotte Tilbury Matte Revolution "Amazing Grace" – I have this lipstick for quite a while now and I'm still in love with it! Auntie Charlotte made this one inspired by Grace Kelly, a vintage rose that is beautiful and classic, the formula is also great – not the most long lasting I've used but quite close. 
Hourglass Femme Nude Lip Stylo Nr.5 – Being a "matte kind of girl" this shade is so not me. It is  a peachy nude with shimmer and for some reason I can pull it off. It reminds me a lipstick my mom had from ZARA  when I was a teenager, that I used to sneak from her! Anyway, the only fault is that is a bit drying even though it is not a matte formula!
Chanel Coco Rouge Shine "Suspense" – Another shimmer on the list… What's wrong with me?! A dark raspberry pink with fuchsia shimmer, super hydrating with some kick ass pigment. The shimmer is quite visible, I usually wear this when I want something just to throw on and get out of the house quickly!
MAC Cremesheen "Crosswires" – A muted coral more on the peachy side. I find this formula quite drying (I must be the only human feeling this way) and I need to hydrate my lips before hand.
Ok.. so now on my two wild cards!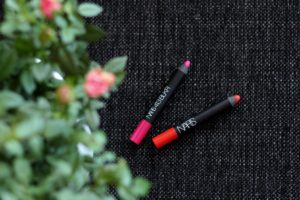 The NARS velvet matte pencils are my all time favourite matte lipsticks (hand in hand with the opaque rouge from Hourglass) so you will see them around here quite often!
413 BLKR – This came on the lip set from the Steven Klein collection and it was on the bottom of the drawer until I rescued it the other day. It is a true fuchsia red and because it has a blue undertone makes my teeth look quite white!
Red Square – An old favourite, an orange red that it's bold and amazing!
Any lipsticks that you would recommend? I'm all hears!