There was a time when I was crazy about the NARS Laguna Bronzer. It used to be my bronzer of choice every single day – before I discovered that Charlotte Tilbury's contour shade from the Filmstar Bronze & Glow palette was my perfect winter bronzer shade ( which featured on my Beauty Favourites video).
Anyway, I've been looking for a liquid bronzer for a while now, but some looked quite orange on me… So, when I saw that NARS released Laguna in the liquid form… YAAAS! PLEASE!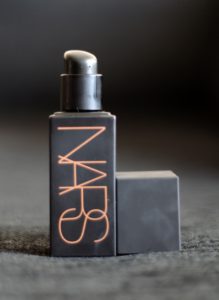 It comes in a bottle with a PUMP! Yes, I know… They finally, learned the lesson! Well done NARS! *pat on the back*
However, it will get grubby because of the rubberized packaging. I've used mine half dozen of times and it's already looking like it has been battered.  It has 30 mls (1.oz), which will last you YONKS, a little goes a looooong way.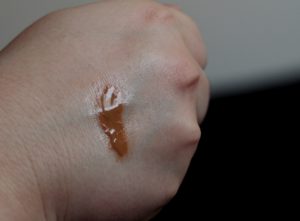 Before application, it needs to be shaken really well. I forgot to shake it properly before I did this swatch, and you can see some separation there. It has a very runny consistency, which scared me at first but then the way it blended was seamless and didn't disturb my base underneath.
Also, you can detect some micro shimmer speckles on the picture, but these don't translate to the skin. I mean, you see a glow but no shimmer visible!
I apply it with the Real Techniques Setting Brush if I want to be precise or a stippling brush for an overall glow. When I tried it in the NARS counter, the makeup artist used a normal makeup sponge (not a beauty blender) and it worked surprisingly well – I hate those sponges!
I haven't used it with a beauty blender, but I have a feeling that will absorb quite a lot of product. Will report back on that, if anyone is interested!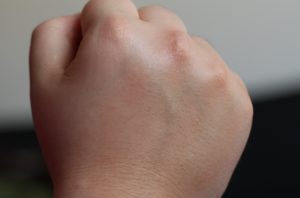 The finished result is a subtle bronze glow without becoming an oompa loompa.
I find difficult to go overboard with this (unless you do several layers) – even on my pale skin – which is amazing given the fact I'm crap applying these kind of products and always end up with patches.
And finally, another aspect I like about this product, is that can be mixed with my "winter shade" foundations in the summer if needed!