So, another fragrance on the blog.. it seems!
Every time I heard the word Patchouli,  I always associated it with a fragrance there was in Portugal in the 60's and was quite strong… not in a good way!
Because of this, fragrances based on Patchouli never really had any appeal to me, until I went to a Tom Ford counter to smell Velvet Orchid – which I find to sweet for my taste.
I came across White Patchouli and found it really unusual. It is a "rough" scent – not for the light hearted – it is the kind of perfume that you know it's there, bold as a statement. For this reason, I don't think this will not be everyone's cup of tea, like Black Orchid isn't.
It is a  bit dark, smoky and floral at the same time, somehow quite sexy. It has quite a long longevity and good projection, the notes are extremely complex, and you see that the fragrance is very well layered. Contains notes of peony, mandarin, bergamot, jasmine, rose absolute, coriander, ambrette seed, sandalwood, incense and golden amber – a never ending list.
The packaging is just a beautiful, sleek  opaque white bottle with gold accents.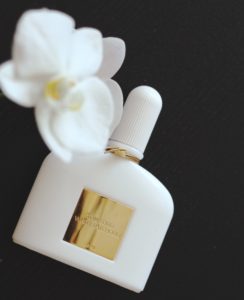 I find that I reach for this fragrance in Autumn, I guess because the weather is getting much cooler and I want something stronger.
Have you smelled this or are you a fan of any other Tom Ford fragrances? 🙂