If you ever visit Sweden you'll come across the FIKA concept
fika [ˈfiːˌka]: to have coffee
FIKA is a very swedish concept and basically means "to have coffee", having a coffee break with a light snack ( usually sweet!) with friends or family.
Swedes prefer not to translate "FIKA" because they think it will lose it's importance and become just a "coffee break", for them is much more than that. It involves socializing and spending some quality time.
Sweet treats accompanying your coffee are vital and the most famous choices are: Cinnamon buns (of course!), Cardamon buns, Prinsess tårta and other typical sweets. Swedes are the biggest consumers of coffee and sweets, so no surprises here! Truth is, they do appreciate good things in life!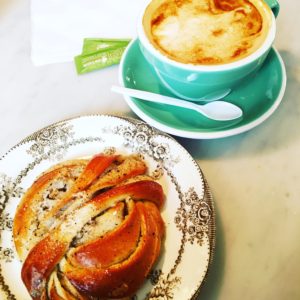 I find this so interesting, because in Portugal we also have a similar coffee tradition and love a good coffee with pastel de nata!
My favourite FIKA spots in Stockholm: (I have so many more to try! But these are my favourite so far!) 🙂
1. Fabrique 
Best for the cinnamon and cardamon buns!
2.  Vete-Katten 
Best for Prinsess tårta, the best one I've tried!
3. Espresso House
A Swedish coffee chain, like Costa coffee / Nero or Starbucks, but with a massive selection of cakes, sandwiches and very nice cinnamon buns too as well as good coffee!
If you want to know more about FIKA there's a documentary online that you can find it here ! It's super interesting, you should check it out!