When I found out this palette was going to be on pre-order in SPACE.NK Apothecary UK, I basically ran to my computer  and managed to pre-order it!
I'm a sucker for palettes in general, always wanted to try BECCA highlighters and of course the most famous and coveted Champagne Pop, but never took the plunge. This face palette though, couldn't pass it on!
When I received it by post last week I got so excited that I did an unboxing and swatches on my snapchat – if you don't follow me, my username is scandiaffair and sometimes I rant over there :p
By the way, the shipping was amazing, it took one day to arrive here in Sweden!
The palette has six shades, two highlighters and 3 blushes, the packaging is beautiful, a pale gold shade and super sturdy. I haven't used any of them, apart from swatching so I cannot give you my full review. But I thought I would fo a run down of the shades in general.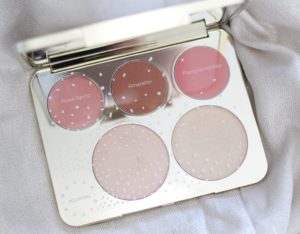 Excuse the dent in the shade "Champagne Pop", it was the bloody clear plastic with the shade names. I got too excited ranting how useless it was to have that crap, and then this happened.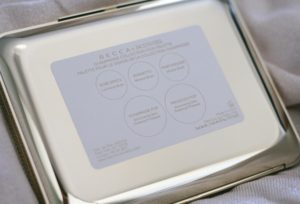 But you get the names on the back, in case you loose the useless clear plastic thingy.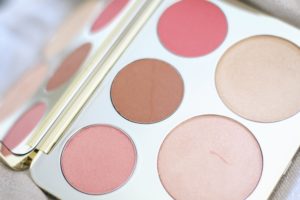 Top Row
Rosé Spritz, a luminous peachy pink blush with gold shimmer running through it. I thought was really similar to the blush in the Sun designer palette from By Terry review here, however, I find Rosé Spritz much more peachier!
Amaretto, a mineral blush described as a matte toasted almond shade, in my opinion this is not completely matte, it's more like a satin formula. I found this quite orange when I swatched it on my hand which I was not expecting it at all – maybe because is so pigmented – but since then I have seen other people using it and looks quite natural, I'll report on this shade once I use it, so my pale pals know what to expect.
Pamplemousse, another mineral blush this one a very strong coral pink, again I don't find this matte. It definitely has a satin finish like Amaretto.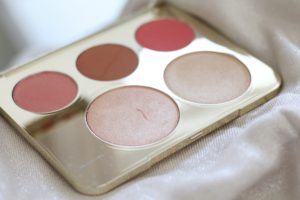 Bottom Row
Now the stars of the show, the BECCA Shimmering Skin Perfectors!
Champagne Pop, the most hyped and talked about highlighter on the beauty community lately. It is a pale champagne with a very soft peachy undertone, so gorgeous even with that massive dent! Argh. 
Prosecco Pop , a straight up gold toned highlighter. I'm on the fence about this one, it has a strong yellow gold undertone which I'm not sure it will work with my skin tone. I mean, I've seen some people with similar skin tone mixing both and it looks lovely, but we'll see. As well as Amaretto, I'll report on this one once I use it!
First impression was extremely positive, the powders are soft, blendable and pigmented. The highlighters don't have any chunky shimmer and are super soft and luminous.
What do you think of this beauty?