I know… another BECCA product, but honestly they kill it on powder formulations.
Today I'm going to talk about the BECCA Ombre Rouge Eyeshadow Palette, which is a warm matte eyeshadow palette – if you've been around long enough, you know I love warm tones! – something that I didn't have on my makeup collection, and it was my very first product from the brand. I have the Hourglass Infinity Eyeshadow Palette, which I love, but it's not completely matte.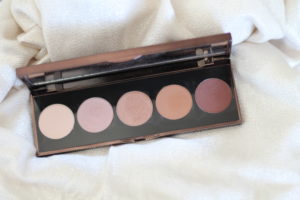 These eyeshadows are very soft – be careful with your brush, too much pressure and you'll get powder around your pan– and super blendable, the quality is incredible. I do find that nr 2 and 3 (from left to right, the shadows don't have names only numbers) are not completely matte, they are somehow satin with a slight sheen.
Something that I love about this palette, is that you can do a complex eyeshadow look using all shades, or you can use one or two shades to create a more natural look. Even though I love shimmers, lately I do love a matte eye, I find it so sophisticated and understated.
In terms of longevity, they do last well without primer on my oily eyelids which is surprising. 
Do you like matte eyeshadow? or are you a shimmer kind of girl?