Is that time of the year when is more important to enjoy the holidays, the beach and the bronzy glow – don't forget your SPF!– than spending hours blending a smokey eye…
So, today I'm running through my trusted 5 easy to throw on products, which I use when I want to look put together but don't have much patience nor time.
For base, I ADORE the Chanel CC Cream SPF 50 in shade 20, I spoke about it here and honestly it's amazing. I don't hear many people talk about it – which is surprising – but just does it all, has high spf (always a bonus), amazing coverage, is easy to blend with hands and has a lovely glowy finish! Perfect for those difficult mornings… I actually use it as my under eye concealer as well, and does the job perfectly!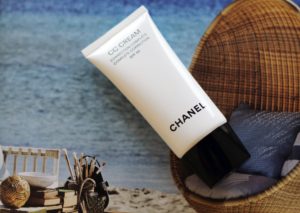 As an eyeshadow I always reach for the By Terry Ombre Blackstar in Misty Rock, a no brainer really… The perfect taupe shade with a mauve hue that makes my green eyes pop – you can see it in action here where I mention a similar shade if you don't want to splurge 😉 
I love mine so much, that you can see how battered the packaging is… True love right here, my friends!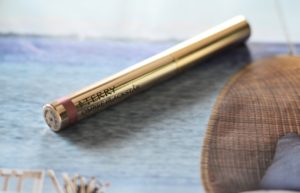 Because is in a stick form, it's so easy to apply… You just blend the edges with your fingers and voilá, a serious eyeshadow action in less than a minute! The lasting power is pretty good even on my oily lids.
For mascara I tend to use always waterproof formulas, even when is not Summer. Lately, I've been using the Guerlain Maxilash Waterproof Mascara.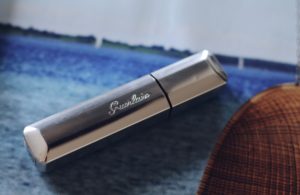 I'm a fan of the normal maxilash, so when I saw they released a waterproof version a while back I just went for it and it holds really nicely without budging even in really hot weather. However, I don't think it gives the same effect as the regular version. Nevertheless is a good one, just different!
For lips, the Chanel Rouge Coco Shine in Suspense is the easiest to give your lips hydration and a pop of colour. It can be a full on glossy, hydrating lip colour or just a stain, I prefer the latter as I'm a matte girl and glossy is not my cup of tea!  So, I just dab a bit of colour, blend it with my fingers and I get a beautiful ombre wannabe lip. YAY!
You can read more details about it here.
Last, but not the least… NARS Laguna Liquid Bronzer – review here – I've been a fan of the powder Laguna Bronzer for years, but it was destiny because I never thought it would work on my complexion. Anyway, this liquid version is a god send, because you can blend it with your hands and get such a natural finish, mix it with your foundation or even with your moisturiser for an overall glow! Easy peasy 🙂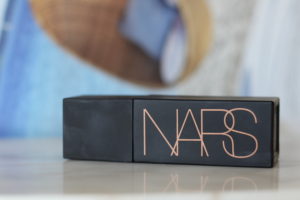 Hope you enjoyed and let me know your easy to throw on 5 must have products!