I'm back! Yeah!
Apologies for my absence… The past weeks, as you might have noticed – from my last post – I was on holiday and I like to disconnect a bit but also life happened and I've been quite busy since my return.
I was still very active on my Instagram and I've uploading videos on my Youtube channel, so if you don't follow me on those platforms… what are you waiting for? :p
I came across SG79|STHLM months ago in Åhlens – a department store here in Stockholm – and fell in love with concept right away. I never saw this brand anywhere else and completely drawn me in… Putting together two of the things I love – photography and fragrance – I'M IN.
FINE FRAGANCE – FINE ART

Photography that dissolves boundaries between painting and photography. With curiosity and lust photographer Dawid creates dynamic work of art with no limitations for the eye of the beholder.
SG79|STHLM is something as simple as the address where ideas and scents are created. Scents with no limitation to fashion, lifestyle or other multinational brand, just fine fragrance for you to explore and enjoy.
This month they released their fifth fragrance, No4 and the notes are:
Top Notes 
Pink Pepper, Jasmine, Lily, Magnolia, Clove
Middle Notes
Amber, Ylang-Ylang, Mandarin pulp, Vetiver
Base Notes
Sandalwood, Incense, Cedarwood, Vanilla
It is described as a feminine sensual fragrance and I can understand why, it is like a very woody floral. However, I can see a man rocking it without any problems because of the woody notes.
On my skin this fragrance opens with a blend of florals and very sparkly, I can definitely smell the pink pepper then becomes creamy and woody on this phase I can totally smell Amber, Ylang-Ylang and a hint of the Vetiver, which take over opening space for the Sandalwood and Cedarwood on the dry down. It is sensual, comforting and subtly masculine at the same time – due to the Vetiver I guess.
The packaging is very simple and gorgeous, honestly I just love understated bottles.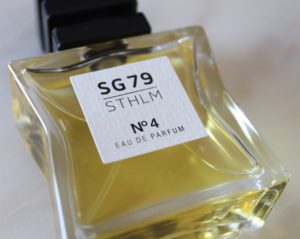 This is such a beautiful layered fragrance, I would wear it in cold, crisp days when you need something woody, creamy and comforting.
If you live in Stockholm you need to have a smell and if you ever come to Stockholm and love fragrances, definitely give it a go! 🙂
Disclaimer: This sample was kindly sent by the brand, however, this is not a sponsored post in any way, shape or form. All opinions are always honest and my own.