Lately, I found myself always reaching for the same makeup products over and over again, which is not necessarily a bad thing – gotta love those staple favourites in the routine – but when you have so much stuff, I feel that rotating is essential.
So, I grabbed two of my Muji drawers and decided to have an "Everyday Makeup Station" – to make it easier when I'm reaching for it at 6 AM –  which I rotate products every single week,  and this post is the first installment of that. I only realised now, how HOURGLASS heavy is this post… Guess I love HOURGLASS more than I thought! 😮
PRIMER & FOUNDATION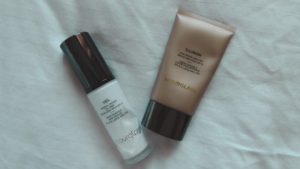 HOURGLASS Veil Mineral Primer SPF15 
I think I've mentioned before that I don't love this primer like the rest of the world does, but lately I've grown to like it a bit more, actually. I think that because my T-zone is much less oilier than usual due to the colder weather, this really helps my foundation's longevity.
HOURGLASS Illusion Hyaluronic Skin Tint SPF15 
Now, this bad boy. I bought this on a whim, I read really mixed reviews but I was in need of a moisturizing decent coverage foundation and I'm so glad I went for it.  I've been using it non-stop, it has amazing coverage – don't get deceived by the name "tint", this packs a punch on the coverage department – and I can just blend it with my fingers and looks amazing. It lasts really well on my skin on working days and I'm generally really happy with it. I have shade SHELL , which I chose by the shade's description on the Hourglass shade chart and it's a perfect match! I actually filmed a little review and it will be up on my Youtube channel soon.
CONCEALER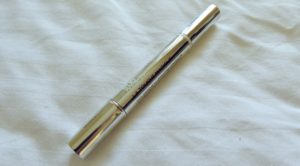 L'oreal Paris True Match Touche Magique Concealer

Most of the days I actually use a little bit of the HOURGLASS skin tint as my concealer because my dark circles are generally not too bad, but when I need a little more coverage I've been using this one from L'oreal Paris.  Let me tell you that I like the fact that has a yellow undertone, which I find very illuminating and seems like I've slept 12 hours when I only did 6, the downside is that I find it very drying. My eye area is generally dry and this just accentuates every single dry patch.
POWDER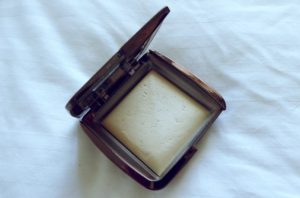 HOURGLASS Ambient Lighting Powder in the shade "Diffused Light"

I ALWAYS like to set my makeup on my T-zone, but I don't like the completely matte effect that "normal" powders leave, so I use this one. Now, this has a sheen to it and really adds glow, whilst setting everything in place.
EYES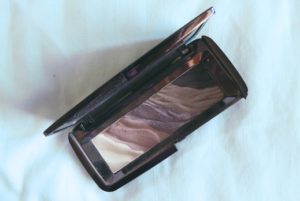 HOURGLASS Modernist Eyeshadow Palette in the shade "Infinity"
To be completely honest, I only used eyeshadow one day this past week because blending eyeshadow at 6AM it doesn't really float my boat. But I had this HOURGLASS Modernist Eyeshadow Palette on the drawer so I thought I would mention it anyway. This only has a shimmer shade and is a very neutral, slightly rose toned palette. I particularly love to use the second shade from left to right all over my eyelid as a wash of colour for that effortless look.
For the lashes I use my Shu Uemura eyelash curlers, of course! For mascara, I've been using two mascaras that I don't particularly love on it's own but together… Oh my! The Lancôme Grandiôse Mascara + the Fairydrops Scandal Queen Waterproof Mascara. This combination just makes my eyelashes fan out and super fluttery. And of course, my classic Eyelash curlers from Shu Uemura.
BLUSH & BRONZER
The next two products come with no surprise as I talk about them so often and I've using it to death!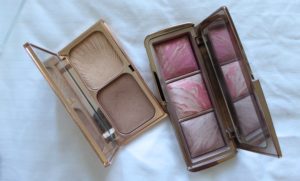 For bronzing/sculpting I ADORE – you can actually see how much I use this stuff in the picture! – the Filmstar Bronze & Glow from Charlotte Tilbury, this is the best bronzer shade for my Autumn/Winter complexion shade!
For blush I've using the mainly "Incandescent Electra" and "Mood Exposure" from the HOURGLASS Ambient Lighting Blush Palette, unfortunately this was a limited edition palette but such a good one, I wish they would make this permanent!
You see both in action here.
LIPS
There's no Autumn without Plumful by MAC, just because. I found this is a very wearable everyday plum shade, which is moisturising and low maintenance for working days.

EXTRAS
Stuff  for the "just in case" moments, travel sizes of Benefit porefessional primer and They're Real Tinted Eyelash Primer.
I hope you enjoyed seeing into my everyday makeup drawers, time to switch some stuff for the coming week!