The Acne Studios Jensen Boots have been on my mind for quite a long time ( they were on my christmas wishlist in black)  and even though I wear ankle/chelsea boots to death I always thought they were too cool for me – I'm not exactly a fashionista! – and also let's not ignore the obvious… the high price tag always made me think if they were worth the "investment".
Of course, living in Stockholm this rational thinking process became a bit clouded because those peachy pink bags are so bloody hypnotic and the sales don't help my quest.. so I bit the bullet!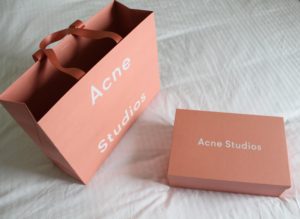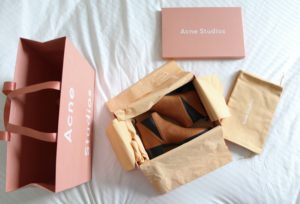 These boots are simple, classic but at the same time made with attention to detail that makes a nice statement in the most minimalist way – the Swedish way.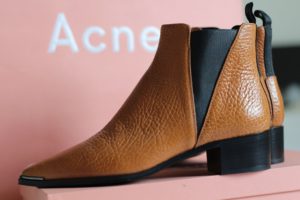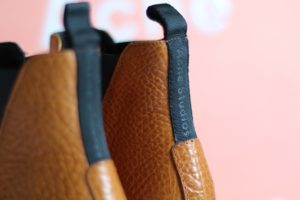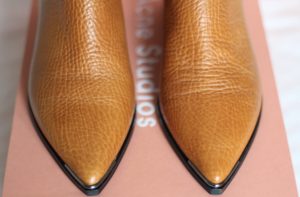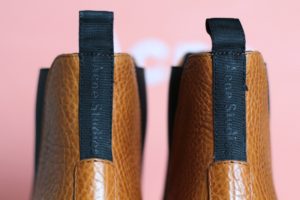 I opted for the shade "Orange Ochre" but I debated between these and the navy blue ones – it was so difficult that I asked for help on my instagram stories! – and almost brought home the navy blue pair. They were gorgeous and very different from what I normally go for – they are on sale here.
In the end, I opted for the most versatile option and because the ones I wear to death are tan and need retiring urgently. I love the look of the grained leather on these and they fit me like a glove, I wish there's no snow so I could start wearing them, but I guess I'll need to wait.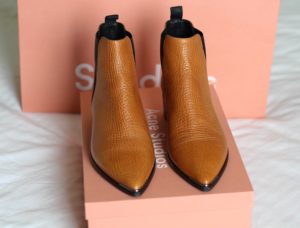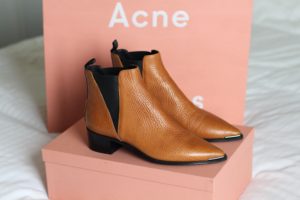 If they prove to be comfortable and durable as everyone says, I'm sure the black ones will join the family too!
By the way, I went to the Acne Studios store in Norrmalmstorg and the sales associates were incredibly friendly, helpful and super patient – I spent good 45 minutes not knowing which colour I should pick.
The store is also very cool and recently renovated, it's located where the bank robbery that originated the "Stockholm Syndrome" occurred and inspired in that, so if you visit Stockholm even if you not planning to buy anything it's a very imponent place.