If you've been reading my blog for a while, this post will come as no surprise to you because this item has featured in several wishlists.
But firstly, let's get the housekeeping out of the way, shall we? I hate this type of disclaimers but I feel that some people always need to be reminded. I'm not rich, I go to work every day , earn a salary at the end of the month and I saved for this item for a while.
I'm not doing this post to brag about anything, I'm just sharing  my love for handbags and in this case, what for me it's a personal "achievement".
Also many of you asked me to give more details over on Instagram, so this is for you. If handbags and/or luxury items are not really your "thing" just stop reading now – I'm sure there are other posts over here that will be more according to your interests just have a look on the archive 🙂 – because this post will all about that. Now with this out of the way – uuuffff– let's move on…
Can I just say that still feels surreal? It's so stupid, but as a young girl I never thought in a million years that I would be able to own a Chanel handbag. I always loved handbags (and shoes) – even still to this day my dad loves to make fun of me because of that! – and Chanel always inspired me as a brand, because of my admiration for Gabrielle "Coco" Chanel and what she represents.  My first pieces of high-end makeup were from Chanel, including my very first red lipstick (which I still have and use!)
Let's stop rambling and tell you more about my experience and show you the handbag!
My boutique experience was absolutely fabulous since the beginning. Before I purchased the bag I went to the boutique – I went to the Stockholm one located in Östermalm – about two or three times to try it on and check which size would suit me.
I was always afraid of feeling intimidated because I was not going to buy anything but all the sale associates (Lin, Tobias and Jessica are fantastic!) I dealt with every single time were really nice, approachable, not snobby and I never felt pressured to buy anything, even on the day, when I was going to pull the trigger.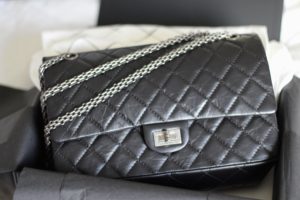 I tried again the sizes on the day and ended up going for the medium 2.55 Reissue with ruthenium hardware, they packaged it absolutely beautifully and congratulated me on my very first Chanel handbag, which left me blushing with everyone in the store staring at me.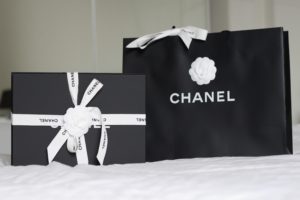 The bag comes in a magnetic box with the beautiful camelia and because it's one of the timeless classics comes with a microfiber dust bag with the Karl Lagerfeld's Mademoiselle Coco Chanel illustration, which is absolutely gorgeous!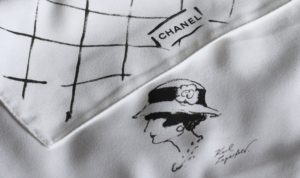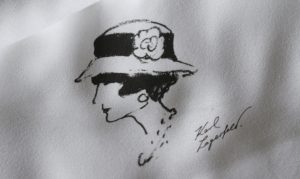 I'm not going to go into detail why I chose this specific bag, because otherwise this post is going to be gigantic – already is – but if you are interested in knowing more about the bag and why I chose this specific style over the classic flap let me know and I can do a post or a video about it! 🙂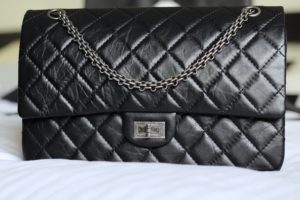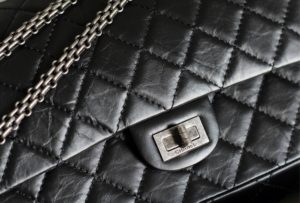 It has the classic quilting, which is quintessentially Chanel but this specific model has the all metal chain and the mademoiselle turn lock, which was designed by Gabrielle "Coco" Chanel herself . Fun fact: The "interlock CC" turnlock didn't debut until the 80's when Karl Lagerfeld introduced it 🙂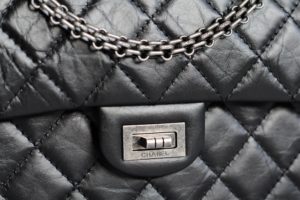 The hardware I chose was ruthenium, which is this brushed old looking dark silver. There's also with gold hardware ( also gorgeous by the way) but for me silver is more versatile, understated and I think it suits me the best.
It is also a double flap bag, lined with this beautiful burgundy shade – inspired on the colour of the orphanage uniforms where Gabrielle "Coco" Chanel grew up – with the interlock CC stitching inside.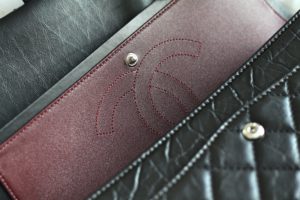 I love everything about this bag, I love how iconic it is but at sime understated and discreet. Can be dressed up or dressed down and be worn in so many different ways!
There's much more particularities to this bag, but again if I would describe it in a post would be a novel. I hope you enjoyed this post nevertheless!
And now, of course I needed to post a picture of the creator with her masterpiece!

"Simplicty is the key note of all true elegance" – Coco Chanel