Who else is over the heavy, cement-like matte lipsticks?
I mean, matte always been my favourite lipstick finish but since the matte lipsticks became the trendy next big thing, the formulas have become so heavy and drying, needing to be completely opaque in one swipe. Which is great for people who love that kind of thing, but for me in the cold weather it's just unbearable.
So lately, I was on the hunt for a lighter matte formula and I was intrigued by the new Giorgio Armani Lip Magnet Lipsticks – not gonna lie the name it's pretty intriguing and their claims were quite promising.
LIP MAGNET is the first liquid lipcolor to offer unprecedented color concentration in the finest of textures, while perfectly fusing with the lips.
There's a ton of beautiful shades and it was really difficult to pick one, but I ended up choosing the shade Front Row (600), which is  a muted berry slightly mauve – something that I didn't have on my lipstick collection. The formula is indeed really fluid, light and provides a lot of pigment.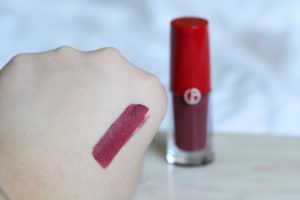 The packaging is simple and classic, the applicator is short which helps to have a good control, also because of the way it's shaped allows you to follow perfectly the contour of your lips and distribute the product evenly.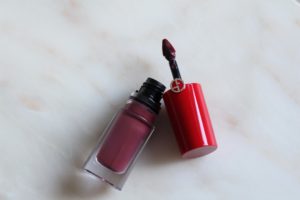 Let's talk about the lasting power shall we?
This long-lasting (up to 8 hours) matte lipcolor is never greasy or sticky; it does not migrate or dry your lips. Lips stay hydrated and perfectly defined for hours on end, with a very pleasant bare-lips sensation.
I think it's long lasting, but not the 8 hours. Providing that you drink and eat during those 8 hours, on me it lasted 4 to 5 hours, which personally for such a light formula still pretty good and I'm perfectly happy with it, given the fact that I can't feel it and my lips feel hydrated throughout those hours.
Also, because it's such a thin formula it's really easy to reapply or touch up if needed and doesn't look weird layered like other similar lipsticks do. The only thing I disliked on this product was that even dry, it does transfer slightly… so just be aware of it.
Have you tried any of these? What are your favourite shades? 🙂