It's the beginning of the Spring season, everything is blooming and the floral scent is in the air. I can feel the cold breeze on my cheeks and whilst passing by a bakery I can smell the warm scent of freshly baked Cardamom buns. 
This is what I picture everytime I smell Mimosa & Cardamom, it's warm, inviting and comforting like a little blanket you put over your shoulders on a cold, sunny day. For some reason it reminds a lot of Sweden, I guess because of the smell of cardamom buns!
I never expected to like this scent as much as I do, mainly because it was not chosen by myself. If you've around here long enough you know I'm a perfume addict, which, can be intimidating for everyone around who intends to give me perfumes as a gift.
This one was my husband's "just because" gift, he just came home with this after one of his trips. I did mention couple of months ago that would love to have a big bottle of the Wood Sage and Sea Salt – one of my favourites – but I guess he only remembered the fact it was a Jo Malone fragrance (not complaining though!)
When I asked him how long took him to choose and how he did choose – we all know how Jo Malone counters can be overwhelming – he just answered me with a blatantly "around maybe 15 minutes, I smelled some, then came across this one and I just applied it to my skin and even though, it was quite sweet and strong to start with, then settled and it smelled really nice and soft"
I guess he deserves the best husband award of the year, everyone! Not even I can choose a fragrance in 15 minutes and get it right.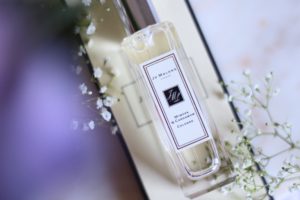 Now into the fragrance, it's really like he describes it, sweet and strong to start with but not in a suffocating sickly kind of way, more like an inviting warm explosion way. It then softens immensely leaving an ethereal cloud of creaminess that lingers around for hours. I love smelling it everytime I catch a breeze.
Top Notes 
Cardamom
Middle Notes
Mimosa
Base Notes
Tonka Bean
I guess I'm adding another favourite to my Jo Malone fragrance list.