When it comes to nude lips I tend to go for more rose toned lipsticks because they compliment my skin undertone much better. This ensemble quickly became my go-to when I want a soft toned down " my lips but better" look.
To be perfectly honest, I wish I never tried Tom ford lipsticks because they are darn expensive.. but let's ignore that fact just now and concentrate on the gorgeous colours, shall we?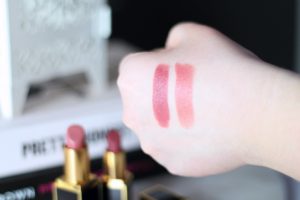 I bought Cary (Left) first, it's from the Lips & Boys collection but corresponds to the shade Casablanca which is permanent. Cary is a dark rosy brown colour with mauve undertones, but still quite warm like a burned rose kind of a shade, I used it loads during Autumn but it's a super versatile shade!
Then, because the pandora box was opened I ended up buying Indian Rose (Right), which is – SPOILER ALERT– my perfect neutral nude shade. It's a medium rose shade with the perfect balance between pink, peach and brown. I've spoken about it here and in many videos!
The formula is the best I've ever used, it's creamy, comfortable, dries semi-matte and lasts yonks for such a creamy formula!