If you haven't heard about Glossier – have you been living under a rock?! – go and check them out here, get mesmerized by their cute, effortless aesthetic and understand what this post is all about!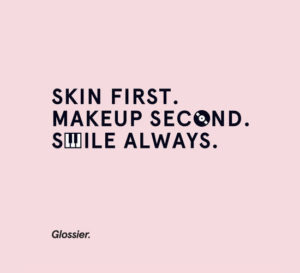 Tomorrow, Glossier will start ship to the UK – hurra! – and even though I don't live there anymore…I have a lot of "houses" there *wink* *wink*, so a wishlist is mandatory and thought I would share it with you.
Milk Jelly Cleanser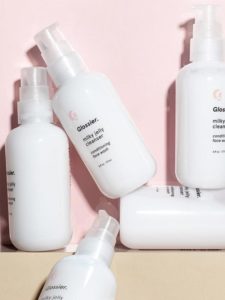 I'm all about discovering new gentle cleansing gels, it is what I use every single morning and I'm very picky about which ones I like. I have sensitive skin and this one intrigues me, of course due to all the rave reviews but also because it has cleaning agents found in contact lens solution, so it's tough on impurities and gentle on your eyes.
As a contact lenses wearer, I really want to SEE if thats the case, glossier! – see what I did there? omg I did it again! *PROUD* moving on…
Super Bounce
All the Glossier serums sound like music to my hears, but the cold is coming slowly but surely here in the north and I'll need all the hydration I can find, so a hyaluronic acid based serum seems like the perfect choice!
Perfecting Skin Tint 
As I'm getting older, I've been moving more and more towards light glowy bases and steer away from heavy, matte, full coverage foundations – I mean, there's a time and place for them but for me, not on an everyday basis.
My work everyday base is usually a tinted moisturiser, so this tint seems like a perfect option, however, from what I've read the coverage is negligible. As long as evens out my skin tone I'm perfectly happy – I don't usually have problematic skin.
Stretch Concealer
This is probably the product I'm most excited about, a concealer that doesn't dry under the eye and moves with your face? YES PLEASE, JUST TAKE MY MONEY.
Cloud Paint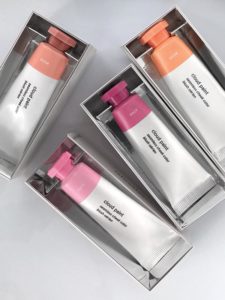 Who never got carried away applying cream blush and looked like you had a few glasses of wine, without the actually wine? yeah, I know!
Apparently this is a sheer, gel-formula which is easy to apply and difficult to overdo. There are four gorgeous shades, I'm eyeing up "Dusk" and "Haze".
Generation G Lipstick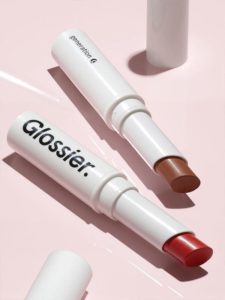 A wishlist on this blog would not be complete without a freakin' lipstick, obviously! Now… Excuse me? A lipstick which gives you the "blotted lipstick look" without the blot? I want all of them! But since I can't have all of them, I'll take the shade "Jam", thank you very much.
Have you heard about Glossier? Which products have you been eyeing up? I would love to hear!
*All pictures are from Glossier.com
P.S.: I can't wait for them to expand to Sweden, the other day I saw that Emily (CEO and mastermind) was in Stockholm with all the bloggers and stuff, so… maybe! I'm crossing my fingers!