This review is long overdue given the fact I bought this fragrance nearly a year ago and it's on his last legs.
[Spoiler alert : it's repurchase material.]
Gypsy Water was one of the first scents I smelled from the house of Byredo – which is one of my favourite houses if you haven't noticed – , the name intrigued me and I remember on that occasion smelling all the Byredo fragrances in Harrods with one my best friends, who was visiting.
Though, it didn't grab my attention though then – maybe because of the perfume overload now that I think about it – I found that it just disappeared on my skin and for that reason I was like.. meh… Until last year, when I just decided to get a sample and actually give it a fair try and completely fell in love.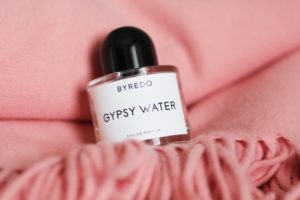 GYPSY WATER IS A GLAMORIZATION OF THE ROMANY LIFESTYLE, BASED ON A FASCINATION WITH THE MYTH. THE SCENT OF FRESH SOIL, DEEP FORESTS AND CAMPFIRES EVOKES THE DREAM OF A FREE, COLORFUL LIFESTYLE CLOSE TO NATURE.
The opening is quite citrusy and fresh, it rapidly becomes a little more woody and the freshness from the opening mixed with the woody notes make me feel I'm in the middle of the forest on a misty day. On my skin, it then dries down to this creamy, warm ball of fuzz that is super comforting and somehow, familiar.
Notes
Top:  Bergamot, Juniper Berries, Lemon, Pepper
Heart: Incense, Orris, Pine Needle
Base:  Amber, Vanilla, Sandalwood
It's not an offensive scent, works well all year round – but it's perfect for colder months – and I do find it very intimate, people will need to be close to you to be able to smell it – unless you bathe in it – and I love that about it. Longevity wise I do find it lingers on my skin for hours and if I spray it on my clothes it lasts yonks!
I'm not a signature scent type of a person but I have the same feeling with Gypsy Water that I do with Mojave Ghost, if I can I'll always have them on my perfume collection and I even go further, if I needed to choose to only wear two fragrances for the rest of my life, it would be these two – I KNOW! BOLDER STATEMENT RIGHT HERE.
Have you smelled Gypsy Water? thoughts? :p